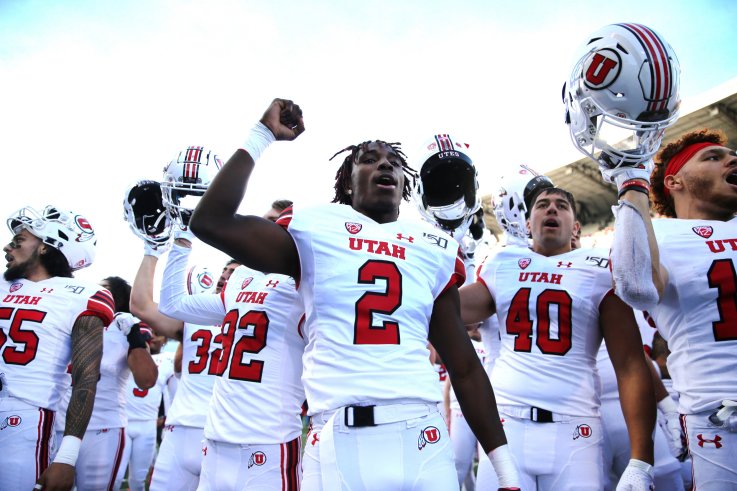 On Wednesday morning, Utah soccer took to Twitter to answer latest criticism of their program by ESPN faculty soccer analyst Paul Finebaum.
"Thanks for the bulletin board materials, @finebaum. Maintain it coming," Utah Soccer wrote on its Twitter account.
The Utes' response comes after Finebaum steered that nobody desires to see the workforce within the School Soccer Playoff (CFP). Finebaum's feedback got here on ESPN's Get Up Wednesday after he was given a hypothetical situation by the present's host Mike Greenberg.
Greenberg requested Finebaum who could be the fourth workforce within the CFP if Oklahoma beats Baylor to win the BIG 12 convention championship, Utah beats Oregon for the PAC 12 championship and LSU beats Georgia for the SEC championship.
"Oklahoma is getting in, as a result of let's be trustworthy the nation doesn't need to see Utah within the School Soccer Playoff," Finebaum replied, including that "Oklahoma will not be any higher, however their gonna look lots higher."
In the newest School Soccer Playoff (CFP) rankings, Utah was given the No. 5 sport, simply outdoors the Prime 4 groups chosen for the CFP semifinal video games. This 12 months's CFP rankings have created extra dialog than traditional, largely resulting from the truth that the groups ranked in spots 4 by seven — Georgia, Utah, Oklahoma and Baylor — all have an identical 11-1 information.
These information may result in drastic adjustments within the CFP rankings following convention championship video games this upcoming weekend, which Greenberg detailed in his situation.
Utah's pupil part, "The MUSS" chimed in to Finebaum's take, by retweeting the clip of the ESPN analyst's feedback and writing "Okay Boomer."
Fox Sports activities faculty soccer analyst, Joel Klatt additionally responded to Finebaum's feedback and gave his help to Utah.
"Come on…@finebaum this an absurd take…this is likely to be your place however to counsel that the 'nation' feels this fashion shouldn't be proper," Klatt wrote on Twitter. "Additionally to counsel that OU will look 'lots' higher shouldn't be correct…if you have not watched Utah simply say it and transfer on."
Utah will face No. 13 Oregon throughout Saturday's PAC 12 championship sport.
if(site_ads){
googletag.cmd.push(perform () {
googletag.pubads().addEventListener('impressionViewable', perform (occasion) {
var pos=occasion.slot.getSlotElementId().cut up("-")[2];
nw_log('Viewable impression', occasion.slot.getAdUnitPath(), pos);
if(rf-1))){
var adrf = setTimeout(perform(){
if(window.setDfpRefreshKV) setDfpRefreshKV();
nw_log('prebid_refresh', pos);
if (typeof apstag !== 'undefined') {
for(var i=0;i<amzSlotCfg.size;i++) if(amzSlotCfg[i].slotID=="dfp-ad-"+pos) break;
apstag.fetchBids(slots:[amzSlotCfg[i]],
perform(bids)
apstag.setDisplayBids();
pbjs.que.push(perform()
pbjs.requestBids(
timeout: PREBID_TIMEOUT,
adUnitCodes: ['dfp-ad-'+pos],
bidsBackHandler: perform()
pbjs.setTargetingForGPTAsync(['dfp-ad-'+pos]);
googletag.pubads().refresh([googletag.slots[pos]]);
rf++;
nwsetCookie("rf", rf, 24);
);
);
);
} else
pbjs.que.push(perform()
pbjs.requestBids(
timeout: PREBID_TIMEOUT,
adUnitCodes: ['dfp-ad-'+pos],
bidsBackHandler: perform()
pbjs.setTargetingForGPTAsync(['dfp-ad-'+pos]);
googletag.pubads().refresh([googletag.slots[pos]]);
);
);
}, 30000);
}
});
});
/*MGID*/
if(site_ads) fqtag.scmd.push(perform()
(perform() var D=new Date(),d=prime.doc,b='physique',ce='createElement',ac='appendChild',st='model',ds='show',n='none',gi='getElementById',lp=d.location.protocol,wp=lp.indexOf('http')==0?lp:'https:';
var mgid=734388;var a=d[gi]("block-ibtmedia-dfp-ibtmedia-dfp-belowcontent");if(!a)a=d[gi]('ads-outlink');a.innerHTML='
';
var i=d[ce]('iframe');i[st][ds]=n;d[gi]("M412698ScriptRootC"+mgid)[ac](i);tryvar iw=i.contentWindow.doc;iw.open();iw.writeln("");iw.shut();var c=iw[b]; catch(e)var iw=d;var c=d[gi]("M412698ScriptRootC"+mgid);var dv=iw[ce]('div');dv.id="MG_ID";dv[st][ds]=n;dv.innerHTML=mgid;c[ac](dv); var s=iw[ce]('script');s.async='async';s.defer='defer';s.charset='utf-8′;s.src=wp+"//jsc.mgid.com/n/e/newsweek.com."+mgid+".js?t="+D.getUTCFullYear()+D.getUTCMonth()+D.getUTCDate()+D.getUTCHours();c[ac](s);
)();
);
/*1World / Part II */
if(site_ads&&"us world tradition tech-science newsgeek enterprise sports activities opinion well being information politics".indexOf(dataLayer[0].classes)>-1) fqtag.scmd.push(perform()
(perform() var d=prime.doc,b='physique',ce='createElement',ac='appendChild',gi='getElementById',gc='getElementsByClassName',ch='childNodes',nn='nodeName',pn='parentNode',ib='insertBefore',se='setAttribute',a=d[gc]("article-body")[0],pg=0,g=a[ch],n=d[ce]("div"),s=d[ce]("script"),bt=d[gi]('dfp-ad-bottom-wrapper'),codes='us':'33056701-8f3a-4f21-ae7b-efa90974009a','world':'ea5afda9-678a-4c5c-b83a-6bb4a2fbb76d','tradition':'3da68270-d6c7-4fb6-98e3-a46d48cdf6ac','tech-science':'414ca465-64ed-4713-81d6-53334bd3c4c8′,'newsgeek':'f6cc6ffa-bd19-4dec-8c94-81f121b929a2′,'enterprise':'e5ade25b-c699-404a-aaad-521f31c271eb', 'sports activities':'b3c58d27-af16-4331-b737-e8527dc96018′,'opinion':'ae00c103-e726-4807-baa0-5d9957b1dd03′, 'well being':'1025c69d-f053-4601-9107-b864d56b9d69′, 'information':'b69a1f2a-884d-4e72-bfbe-6dd76c7d1b0a','politics':'23083c1c-d02d-49db-886f-c3314a007f14′;bt.className = bt.className+' moved';
n[se]('data-owo-type', 'widget');n[se]('data-owo-mode', 'smart3');s.sort="textual content/javascript";s.async=true;n[se]('data-owo-code', codes[dataLayer[0].classes]); s.src="https://frontend.1worldonline.com/poller-constructor.js?ncu=";
if(g.size==1)g=g[0][ch];for(i=0;i<g.size;i++)g[i][nn]=='FIGURE') pg++; if(pg==9) g[i][pn][ib](n,g[i]); g[i][pn][ib](bt,g[i+1]); d[b][ac](s); break;
)();
);
}
(perform (d, s, id)
var js, fjs = d.getElementsByTagName(s)[0];
if (d.getElementById(id))return;
js = d.createElement(s);
js.id = id;
js.src = "//join.fb.internet/en_US/sdk.js#xfbml=1&appId=245537789135954&model=v3.3";
fjs.parentNode.insertBefore(js, fjs)
(doc, 'script', 'facebook-jssdk'));



Supply hyperlink